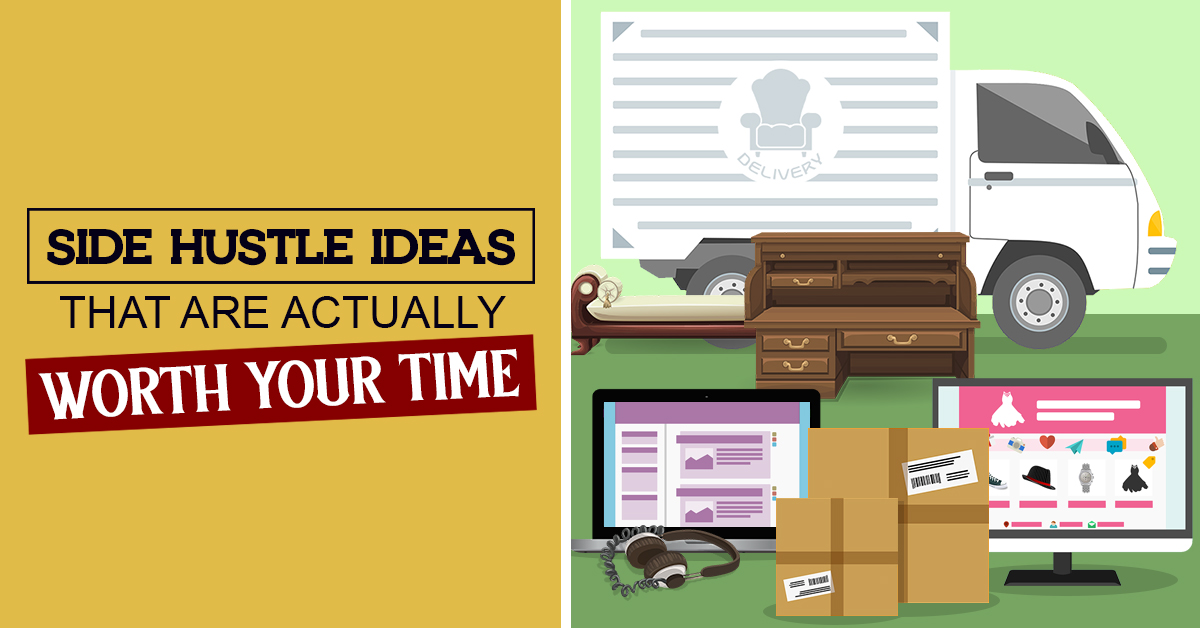 Side hustles are one of the best ways to increase your income so you can pay off debt, save up for a big purchase, grow your retirement savings, or reduce your financial stress.
That means you can use these side hustle ideas when… 
You've gotten so fired about destroying your debt that you are ready to find a way to earn an extra $500-$1,500 per month to put towards it.
You want to save up for a vacation that's just a few months away.
You've crunched the numbers for retirement and have realized the impact of adding a few hundred dollars more each month to your retirement fund.
And if you want to know what makes a side hustle a good one, I've got you…
The best side hustle ideas are flexible and pay well for the work you're doing. I personally like the ones that are scalable (as in ones you can build into a much larger business), but not everyone is looking for a new career.
No matter what's driving your need to find a side hustle, I've got 22 of the best side hustle ideas for 2020.
After I quit my job as a high school band director to run this site full-time, I started running Facebook ads for small businesses in my area as a way to supplement my income. My first client was the jeweler who sold me my wife's engagement ring.
That client turned into another, then another, and pretty soon I was out-earning what I made as a teacher.
Running Facebook ads for small businesses is simply digital marketing through Facebook, which continues to be one of the best online platforms for small businesses to increase their traffic and visibility.  And, you can make around $1,000-$1,500 per month/per client with just a few hours of work each week.
Digital marketing on Facebook includes:
Finding and acquiring clients
Creating effective ads
Testing your ads
Maintaining client relationships
The reasons this is hands down, one of the best side hustles is because Facebook has a massive reach that small business owners are just starting to tap into. Big companies have been doing this for a while, but many small business owners lack the resources and time it takes to run an effective ad strategy.
When you learn how to run Facebook ads for local business owners, you're helping them strategize and grow their business.
Sounds like a side hustle you're interested in? I teamed up with my friend Mike Yanda (lawyer turned digital marketer who's now bringing in $30k/month) and created the Facebook Side Hustle Course to help others start one of the best side hustle ideas of 2020.
We love watching our students grow this side hustle. It's just as exciting to see people hit the 5K Club (scaling this side hustle to $5,000 of extra income per month) as it is to watch people just starting out and realizing that it really does work.
Check out the FB side hustle course
For more high-earning side hustle ideas, read Best Side Hustles to Make an Extra $1,000-$2,000 Per Month.
2. Start a blog
I want to be straight with you from the beginning… blogging isn't the fastest way to make money out there – but it has the highest earning potential of anything on this list. I started this blog in my spare time after coming home from my job as a band director, and now I run a seven-figure business from my laptop just a few years later.
As a blogger, you're in complete control of when you work, how you monetize your blog, and what you blog about.
I had no clue how life-changing my site would be. I've traveled a ton this past couple of years, my wife was able to retire early, and I've started another business. That's all because I had the wild idea to talk to people about their money.
This trajectory isn't the norm for everyone, but you get out of it what you put into it. You can grow your blog in the evenings, on your lunch break, and on the weekends. Blogging is a long game, so be prepared for that because it does take some work before you start earning.
If you're interested in starting a blog, a WordPress blog hosted through Bluehost ($2.95 per month) is the way to go for new bloggers, and if you're feeling like the setup and installation is a little too overwhelming, check out Launch That Blog. It's completely free when you go with Bluehost, and you'll get a free domain name and a ton of bonus freebies from me.
learn how to start a blog
Related to online side hustle ideas: How to Make Money Online: 21 Ways to Make Money From Your Laptop.
3. Proofread for a living
If you cringe when someone uses the wrong verb tense or can't tell the difference between their/there/they're, proofreading might be one of the best side hustles for you to try. Proofreaders are responsible for polishing written content for bloggers, content writers, website owners, and more.
This is another super flexible and good-paying side hustle, so much so that Caitlin Pyle of Proofread Anywhere left her day job to work as a proofreader, then leveraging her skills to create a comprehensive proofreading side hustle course. You can check out her course here.
start proofreading
Read more at Proofreading Jobs: Make Money Pointing Out Mistakes.
4. Become a Pinterest virtual assistant
You're probably already familiar with Pinterest – it's a great place to find recipes, workouts, DIYs, etc. But, did you know that online business owners and bloggers have a high need for Pinterest virtual assistants?
This is one of the best side hustles of 2020 because Pinterest VAs make an average of $500 per month/per client doing things like:
Creating pins
Optimizing images
Developing a Pinning schedule
Doing keyword research
You can learn how to do all of this and find your first client in the Pinterest Virtual Assistant Course by Kristin Larsen and Gina Horkey.
Check out the pinterest va course
For more side hustle ideas with Pinterest, read How to Make Money on Pinterest in 2020 (Earn $1,000 Extra Per Month!).
5. Teach English online with VIPKid
VIPKid is a website that connects its teachers to young Chinese students with the goal of helping them learn English. The hours are flexible, you work when you want, and you can earn up to $22/hour with VIPKid – making it one of the best online side hustle ideas.
To start teaching through VIPKid, you start with an application and interview process that involves doing a practice lesson. It's less stressful than it sounds, trust me. Also, you don't need to be a certified teacher to teach through VIPKid – you just need experience working with children, which can include:
Raising your own children
Working at a daycare
Tutoring
Babysitting
As a former teacher, I really appreciate how easy VIPKid makes it for side hustlers. You use VIPKid's platform to schedule 25 minute long lessons, and there's zero lesson planning.
Check out this VIPKid Review to learn more from someone who teaches for VIPKid.
Check out VIPkid
If you're looking for more side hustle ideas for teachers, check out Best Side Hustles for Teachers to Make More Money During the School Year.
6. Start flipping furniture
We've all seen furniture just sitting on the curb around our neighborhoods. The thing is, a lot of it is in pretty decent shape structurally and really just needs a fresh coat of paint or some new hardware. I honestly think that most people don't want to take the time to fix or even donate this stuff.
You can also source your inventory at Goodwill, other thrift stores, Craigslist, and garage sales. The point is to keep your costs low so that you can maximize your earnings.
Once you've found pieces and refreshed them, you can sell your flips on Facebook Marketplace or through selling apps like Trove or Chairish.
learn how to find furniture to flip
You can learn more at: How to Make a Full-Time Income Flipping Furniture From Home
7. Sell things on eBay
I have a reader who made nearly $85,000 in one year from selling things on eBay. That's wild.
Now, there are no guarantees on the amount you'll make, but this is one of the side hustle ideas that's insanely easy to start because you can literally start selling what's sitting around your house.
Here are a few tips to get this side hustle up and running quickly and on the cheap:
Start small by selling items for around $10 or less – you'll keep your costs down and bank some good reviews
Invest in a postage scale
Watch what you spend on packing materials
Sell what you know, which helps you market and list things correctly
Learn more through online reseller communities, like blogs, YouTube channels, and social media
8. Walk dogs or pet sit
Whenever my wife and I go out of town, we rely on a pet sitter to come and stay with our dog Strider… he's a special snowflake and needs the right person to tolerate him. Now that we've found that person, we'll be using them for as long as possible.
This is exactly what can happen with sites like Rover – an online platform that is dedicated to connecting pet owners with dog walkers and pet sitters in their area. This goes unsaid, but you have to love pets for this side hustle.
Pay varies depending on where you live. You'll be paid more if you live in an urban area, which can be around $25 per walk or $70 for an overnight stay.
Rover can help you find clients, but you can also list your services on social media. Because trust is such a big part of this side hustle, referrals go a long way.
9. Sell on Shopify
Shopify is an easy to use platform for setting up and running your own eCommerce store. And if you're thinking that it sounds like a lot of work running an online shop, it can be surprisingly passive if you use Shopify for dropshipping.
Let me explain…
You use Shopify's platform to build your eCommerce site — there are over 70 customizable themes, a drag and drop editor, and custom domains. You select items to sell on your site that can be drop-shipped (You don't touch, store, or ship these goods. You're listing them for sale, then connecting the customer with supplier).
After your site is built, it's pretty passive because you're not actively managing or shipping orders — Shopify does this for you. You will need to run traffic to your site, and check in to maintain it. You can start your Shopify side hustle for as little as $29/month.
There are already over 1,000,000 businesses powered by Shopify (they also manage point of sale technology for brick and mortars), with over $135 billion in sales.
start a free trial with shopify
10. Become a rideshare driver
Using ridesharing companies like Uber and Lyft give customers a comparable or even less expensive option to cabs. They also feel very millennial-friendly… easy to use apps, interacting with fellow side hustlers, and rides within minutes.
Rideshare drivers get to set their own hours, and I've met a lot of drivers who genuinely love meeting new people and being able to side hustle whenever they want.
There is a lot to understand about rideshare driving before you get started, like the average pay often being less than advertised. But, I'm including it on this list because I've heard legit reviews from a number of very happy rideshare drivers who love making money on their own schedule.
11. Freelancing
If you have a marketable skill, working as a freelancer is a super legit side hustle. Now that more and more companies, including big ones, are outsourcing to freelancers, there is a lot of work even for new freelancers.
There are freelancing jobs for:
Sound design
Graphic design
Writers
Film editing
Photography
Web development
Bookkeeping
Virtual assistance
A lot of freelance work can be done online, which makes this flexible work that fits pretty seamlessly in with the rest of your life. You can find your first freelance jobs on sites like Upwork and Freelancer. I also highly recommend starting your own website once you've gotten your feet wet and are ready to grow your client list.
I have a number of freelancers on my team here at M$M, including an editor, virtual assistant, and web developer. They've told me that they love freelancing because it gives them the flexibility to take care of their families, travel when they want, and work on their own schedule. And, at least one of my freelancers scaled her side hustle into a full-time job.
12. Rent out your car
If you like the idea of Airbnb (renting out a room or your entire house to make some extra income) Turo is like that, but for cars. 
Turo is an online platform where you can list your car, the dates it's available, and then rent it out to prescreened customers. Don't worry, Turo also offers up to $1 million in liability insurance and coverage in the event of theft or physical damage.
Turo pays you 65% to 85% of the trip price, and they have a nifty Carculator to tell you what you can expect to rent your car for. If you haven't ditched your car payment yet, Turo would be a great way to offset that monthly cost.
13. Side hustle as a tutor
If there is a subject that you know well and can teach to others, tutoring is a great side hustle idea. I know this because when I was working as a teacher, I learned that parents are always looking for tutors for math, science, writing, foreign language, history, etc.
Tutoring is actually one of the best side hustles for teachers because the hourly pay is pretty high, around $30-$60/hour depending on where you live.
If you can do SAT or ACT prep, you can earn $45-$100/hour. You can find tutoring jobs by connecting with local schools, advertising your services on social media, or through an online tutoring platform like Wyzant.
14. Complete tasks on TaskRabbit
For a low commitment side hustle, as in one that you can pick up and earn through whenever, doing one-off jobs with TaskRabbit is a great way to make extra money in 2020.
Here's the gist of it… you use TaskRabbit to find individual tasks/jobs that people have listed. It can be moving furniture for $75, mounting a TV for $30, or cleaning a house for $60.
The reason this is one of the best side hustle ideas is that you can literally pick it up when you want to make money and put it down when you're done. You're not locked into a completely new career; it's just fast cash when you need it.
15. Freelance writer
Freelance writing is a broad field that can encompass a number of different jobs including:
Marketing campaigns
Blog posts
Email newsletters
Online and print articles
Catalog descriptions
Ghostwriting
Web copy
Grant writing
Technical writing
Content mills
Resumes
As a freelancer, you own your business and contract your work out to companies or solopreneurs. You work on your own schedule and can set competitive rates, making this one of the best side hustles to grow into a full-time job.
Many types of freelance writing work don't require a specialized degree, but if you want to jumpstart this side hustle, check out 30 Days or Less to Freelance Writing Success. Also, read How to Become a Freelance Writer: The Ultimate Guide for 2020.
16. Work as a virtual assistant
As this site has grown, I've started leaning on a team of people who help me with jobs that I don't necessarily need to do… okay, some tasks are better if they're not done by me, like web design. But one of the most valuable behind the scenes people here is my virtual assistant.
She helps manage my social media accounts, handles billing, does inbox management, schedules meetings, and generally keeps me focused and on task. It's not an exaggeration to say that I couldn't run this site without her.
That's the kind of work and responsibility that comes with being a virtual assistant, and with a growing number of online business owners, VAs are even more in demand. To work as a virtual assistant, you'll need to have good time management skills, be highly organized, and communicate well.
Additional virtual assistant tasks include:
Data entry
Responding to emails
Project management
Bookkeeping
Blog management
Preparing reports
Research
Simple digital marketing tasks
Content creation
Event management
That's a pretty wide range, and what you do will depend on the clients you take on and how you niche down your work. Some business owners have multiple virtual assistants who are all highly experienced and trained in different areas.
What you'll love about this side hustle is that it's extremely flexible – with just a laptop and an internet connection, you're able to work. Working as a virtual assistant is so flexible that my VA is able to work from home while she raises her four young kids.
If this is one of the side hustle ideas you're interested in, I highly recommend checking out Gina Horkey's course 30 Days or Less to Virtual Assistant Success. You'll learn:
How to establish yourself as a VA
Pitching clients
Launching your business
How to set your rates
Where and how to find clients
Building effective client relationships
And a lot more, including access to a Facebook community for support, tech support for your website, and on-going education.
become a virtual assistant
17. Creative and artistic services
A lot of the best side hustle ideas you'll find on lists like these are for online work or using an app to find work. Not many ideas are for leveraging your natural abilities, but those side hustles do exist and can be a great way to make extra money.
Some of the ideas here can be learned, but the people who are best at these side hustles typically have some innate artistic ability or creativity.
Here are a few ideas of how people are flexing their creative muscles while they side hustle:
Make-up artist- M$M reader Amanda does wedding make-up as a side hustle and makes around $300-$600/day plus tips. She's even been flown out for a destination wedding in Aruba.
Knitting instructor- Ariel, my editor, teaches knitting lessons and classes on the side. She makes $30/hour for private lessons and makes up to $100/hour teaching group classes.
Private music lessons- Music teachers can make around $25-$40/hour giving private lessons in their home. When I was a high school band teacher, parents were always asking me for names of instructors in the area.
To get one of these side hustles up and running, having a website or social media presence is incredibly helpful. You can also promote your skills to your friends and family – word of mouth goes a long way.
18. Sell stuff on Etsy
Founded back in 2005, Etsy has turned into the go-to online marketplace for all things crafty. And in 2018, Etsy saw its highest-grossing year with over $3.9 billion in annual merchandise sales from over 33 million buyers.
Etsy is not your grandma's craft fair – it's a legit platform connecting buyers and makers worldwide.
This side hustle idea is similar to the last point in that you're using your creative abilities, but this is selling stuff, not services. And stuff, you can sell all kinds of it on Etsy…
Custom jewelry
License plate artwork
Wedding gifts
There is an entire section for belts and suspenders
Home decor
Seasonal goods
Craft supplies
Vintage items
Printables
That's just a small sample of what you can sell on Etsy.
Starting an Etsy shop is a painless process, and you can list your first item for $0.20. Etsy collects a 5% transaction fee plus a 3% + $0.25 payment processing fee once you make a sale.
19. Create a course to sell
Next to seeing so many people get out of debt, one of the most rewarding things about running this site is teaching people such a valuable skill (see #1)… as much as I disliked working in a school, I freaking loved teaching.
But, the great thing about creating and selling an online course is that you don't have to deal with angry parents or school politics. You just get to help people learn something really useful.
I know what you're thinking. Am I even qualified? What would I even make a course about?
The answers are probably and anything. See, we all have something that we're really good at. Maybe you're an awesome graphic designer, an excellent bookkeeper, or darn good at editing videos. You can leverage those talents or nearly any other skill to create a course.
How well your course sells will depend on the demand for what you're teaching, and courses with marketable skills tend to do better. The number one tip for success is to provide value to your students. Know exactly what you're talking about and give them more than they came for.
To get an idea of the types of courses out there and how you might fit in, check out online course platforms like Udemy and Teachable.
While this is one of the best side hustles, it takes a decent amount of work to create, market, and launch your course. The flip side of that is that you are in complete control of a product you've created while earning fairly passive income.
In 30 days, one of my readers brought in nearly $10,000 in sales from a course on graphic design!
Laptop Empires has some excellent information about creating and selling an online course at How to Structure Your Course & Create a System to Sell the Hell Out of it All Year Long.
20. Deliver food
In an article by U.S. News, it was reported that the average person has two to three food delivery apps on their phones, using them around three times per month. Grocery and food delivery apps are making life much easier for some people.
That growing market makes this one of the best side hustle ideas of 2020. The work is there, the pay is pretty decent, and it's flexible. Drivers for UberEats, Postmates, and DoorDash average around $15-$20/hour delivering food in their spare time.
Instacart and Shipt drivers average $100 for a 6-8 hour shift.
21. Start a consulting service
I remember when I first started this site and wish I had someone to answer about a million different questions I had. That's what it's like for the vast majority of entrepreneurs I've talked to. And the quest for valuable insights extends well beyond those first few months or years.
Clarity.fm saw that need and created an easy way to connect with experts in your field. As an expert, you can get paid for your knowledge, with rates starting at $60/hour but averaging closer to $100-$300/hour.
Here's how it works:
Someone comes to Clarity.fm and searches for an expert on a specific topic
They find you and schedule a call
You both receive confirmation from Clarity
You get on your call and receive payment for your time
You can consult for Clarity on a huge list of topics related to business, funding, product and design, technology, skills and management, a variety of different industries, and more.
Even Mark Cuban thinks this is one of the best side hustle ideas… he consults for Clarity at $166.67/minute.
If you're interested in earning at least $60/hour, here's their list of expert standards, and you'll also need to fill out an application. Clarity will review your application and assess it based on demand and the completeness of your profile.
start consulting for clarity
22. Get cashback when you shop
Ibotta is a cashback app that lets you collect offers and bonuses for shopping in-store and online like you normally do. They've partnered with over 1,500 different brands and companies and pay cash via PayPal or Venmo.
Now, you're not going to get rich from Ibotta, but it's an easy side hustle that will help you earn a little extra cash.
After you download the free Ibotta app, here's how you can start earning cash back:
Shop in-store by adding offers to your Ibotta account, and after you upload a photo of your receipt, cash is added to your Ibotta account within 24-28 hours.
Redeem offers instantly by linking your store loyalty accounts. There's no need to upload your receipt.
Use the Ibotta app to pay at over 50 retailers and redeem instant offers.
Ibotta also pays you $5 when you refer new users. You can learn more at Ibotta Review 2020: Is It Worth It?
How do you start a side hustle?
When I started my blog, I had no freaking clue that it would turn into a 7-figure business. I just really disliked being a teacher and knew I wanted more than a teacher's salary could ever allow me.
That was why I start a side hustle. Your reason or goal is an incredibly important part of this process.
A hustle means it's work, and your why is how you motivate yourself to make it happen.
After you have your motivation, start looking into side hustle ideas by thinking about what you're good at, things you enjoy, and your availability.
Say you just want to make a little extra cash here and there with something pretty mindless. Why not walk dogs for Rover or find jobs on TaskRabbit?
Or, if you're really motivated to find something you can scale and maybe one day leave your 9-5 for, running Facebook ads has done that for a lot of people.
Best side hustles 2020 – the final word
There is no magic pill that you can take to earn more money, and I see lots of so-called magic pills online. That drives me to produce lists like this. I want my readers to have the best options available.
You're never going to find me pushing an MLM, and I'm always going to offer warnings about stuff like taking online surveys.
Point being, not all side hustles are created equal. Do your research, read the reviews, and find the best side hustle ideas to make your goals happen.